Welcome to our comprehensive guide on bathroom designs, trends, and visuals for homeowners seeking inspiration and practical tips for their next renovation project.
With expert opinions from HGTV, design professionals, and noteworthy industry predictions for 2023 and beyond, we cover everything from bold new tile ideas to eco-friendly fixtures.
Stay ahead of the curve by exploring popular color palettes, high-tech features, timeless styles, and more in this all-inclusive resource.
Key Takeaways
Incorporating natural textures like wood, stone, and plants is a popular trend for creating a calming and serene bathroom atmosphere.
Bold colors and patterns are being embraced to create striking contrast in bathrooms.
Global – minded design trends that incorporate various cultures and traditions are becoming increasingly popular for adding visual interest to bathrooms.
Popular bathroom designs for 2023 include colors and materials such as natural wood, stone, matte black fixtures; plumbing fixtures that provide water-saving benefits; trending floor plans like open-concept layouts or his-and-hers bathrooms; eco-friendly trends that promote sustainability and energy efficiency.
Latest Bathroom Design Trends
Designers are incorporating natural textures like wood, stone, and plants to create calming and serene bathroom spaces, while also embracing bold colors and patterns for striking contrast.
Natural Textures: Calming And Serene
One of the most sought-after bathroom design trends in 2023 is incorporating natural textures to create a calming and serene atmosphere.
Homeowners are gravitating towards materials that evoke feelings of tranquility and relaxation, like warm woods, soft stones, marble, and woven textiles.
For example, you might introduce sandy-textured floor tiles that mimic the feel of walking on a beach or use reclaimed wood for vanity cabinets to add depth and character while contributing to ecological sustainability.
Additionally, consider bringing in live plants or artwork inspired by nature to complement the soothing vibes created by these rich textures.
Bright And Bold: Striking Contrast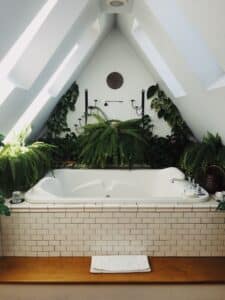 Dive into 2023 with an eye-catching bathroom design that showcases bright and bold colors to create striking contrast. As homeowners have spent more time at home, they are becoming more confident about going busy and bold with their bathroom interiors.
For example, a popular choice among interior designers is using dark-colored walls in powder rooms or smaller bathrooms to make the room feel bigger while adding depth and drama.
Complement this look with lighter elements like white countertops or sinks for balance and visual appeal. Another approach would be incorporating wallpaper featuring geometric patterns or abstract prints along one wall for an instant focal point that instantly captures attention.
Global-minded: Pretty And Patterned
One of the most captivating bathroom design trends for 2023 is a global-minded approach, incorporating pretty patterns and artistic prints that reflect various cultures and traditions from around the world.
This trend not only adds visual interest to your bathroom but also offers a personalized touch based on your own travels or cultural heritage.
Opting for globally inspired patterns can elevate any bathroom interior, immersing homeowners in vibrant aesthetics teeming with history and culture. These charming visuals can be incorporated through textiles like patterned shower curtains or bath mats, as well as decorative elements such as framed artwork or even painted walls featuring motifs drawn from diverse sources like Indian mandalas or Mexican Talavera pottery.
Statement Tiles
Statement tiles are an excellent way to add personality and character to any bathroom. These bold, eye-catching tiles can be used on walls or floors, creating a focal point that adds interest and style.
You can choose from a wide range of colors, patterns, shapes, and sizes to create the perfect look for your space.
One popular design trend is using large-format porcelain slabs that mimic the look of natural stone but offer better durability and low maintenance requirements.
Another option is geometric patterned tiles that add a graphic punch to your bathroom design.
High-tech Features
Incorporating high-tech features into your bathroom design is a great way to make your daily routine more convenient and enjoyable. One popular trend for 2023 is smart toilets that offer heated seats, bidet functions, and customizable settings.
Another must-have is a shower system with programmable temperature settings, body jets, and voice command capabilities. You can also add Bluetooth speakers or install smart mirrors that display the weather forecast and news headlines while you get ready in the morning.
Remember to keep in mind the cost of these high-tech features as well as their compatibility with your home's plumbing system before making any final decisions.
Popular Bathroom Designs For 2023
In 2023, popular bathroom designs will focus on colors and materials such as natural wood, stone, and concrete; plumbing fixtures that provide water-saving benefits; trending floor plans like open-concept layouts or his-and-hers bathrooms; eco-friendly trends that promote sustainability and energy efficiency; and tech trends like smart toilets with built-in speakers.
Colors And Materials
To create a bathroom that is both functional and stylish, it's important to consider the colors and materials used in the design. Here are some popular options:
Neutral shades: Beiges, grays, and whites are timeless color choices for a bathroom design. They provide a calm and relaxing atmosphere that never goes out of style.
Bold hues: On the other hand, bright poppy colors like yellow, red or blue work well if you want to make a statement in your bathroom space.
Matte black: Using matte black fixtures and hardware adds an edgy and modern look to your bathroom.
Metallics: Adding brass fixtures or rose gold faucets can give your bathroom a luxe feel.
Wood finishes: Incorporating wood textures in your bathroom design can bring warmth into the space.
Marble accents: Marble is one of the most popular materials for bathrooms because of its elegant and luxurious look.
Terrazzo tile: This patterned tile has made its way back into the spotlight for its colorful speckled appearance that creates a playful atmosphere.
Glass features: Glass shower enclosures allow light to pass through making small bathrooms appear larger while giving them an airy feel.
By using any of these color schemes or materials in your bathroom redesign, you can elevate the overall aesthetic of your space while also improving functionality with modern updates such as glass shower doors and matte black fixtures as popular options for 2023.
Plumbing Fixtures
Updating your bathroom fixtures is a simple way of upgrading the look and functionality of your space. Here are some popular plumbing fixtures to consider when renovating or redesigning your bathroom:
Smart Toilets: This high-tech fixture offers features like heated seats, automatic deodorizing, motion sensors, and self-cleaning capabilities.
Walk-In Showers: A walk-in shower adds luxury and style to any bathroom design while also providing accessibility for those with mobility issues.
Freestanding Tubs: These stylish tubs come in a range of shapes and sizes and can be used as the focal point of the bathroom design.
LED Mirrors: Combining modern technology with sleek design, LED mirrors provide adjustable lighting options and added functionality.
Wall-Mounted Faucets: A wall-mounted faucet leaves more counter space for storage and gives a streamlined look to your sink area.
Rain Shower Heads: These oversized showerheads distribute water evenly, creating an indulgent spa-like experience in your own home.
Water-Saving Fixtures: Eco-friendly designs like low-flow toilets and showerheads can help to conserve water without sacrificing performance or style.
Remember that when choosing plumbing fixtures for your bathroom renovation or redesign, it's important to prioritize quality over price. Investing in high-quality fixtures will not only last longer but also add value to your home in the long run.
Trending Floor Plans
If you're planning to renovate your bathroom, then choosing the right floor plan can make a big difference in terms of functionality and aesthetics. Here are some trending floor plans to consider:
Open-concept layout – Removing walls or adding glass partitions can create an open-concept design that gives the illusion of more space and allows for more natural light.
Wet rooms – A wet room is essentially a waterproofed bathroom where the bath and shower are on the same level as the rest of the room, creating a modern and seamless look.
Double vanities – For couples sharing a bathroom, double vanities offer ease and convenience by providing two sinks and built-in storage space for each person.
Freestanding tubs – Freestanding tubs are becoming increasingly popular, creating an elegant focal point in larger bathrooms while also being practical for soaking and relaxation.
Compact layouts – For smaller bathrooms, compact layouts with wall-mounted fixtures can help maximize space while still maintaining a stylish look.
Incorporating any of these trending floor plans into your bathroom renovation can enhance both its functionality and overall appearance.
Eco-friendly Trends
Looking to make your bathroom more environmentally friendly? Here are some eco-friendly trends worth considering:
Water-saving fixtures: From low-flow showerheads to dual-flush toilets, there are plenty of ways to reduce water consumption in the bathroom.
Sustainable materials: Choose materials like bamboo or recycled glass for countertops, flooring, and accessories that have a lower environmental impact than traditional options.
Natural cleaning products: Switching to non-toxic cleaning products can help reduce the amount of harmful chemicals that end up in our water systems.
Energy-efficient lighting: LED lighting is not only energy efficient but also long-lasting, making it a smart choice for illuminating your bathroom.
Eco-conscious toiletries: Opt for refillable soap dispensers or bar soap instead of single-use plastic bottles. Consider using bamboo toothbrushes and vegan skincare products as well.
By incorporating these eco-friendly trends into your bathroom design, you can create a space that is not only beautiful but also sustainable and environmentally conscious.
Tech Trends In The Bathroom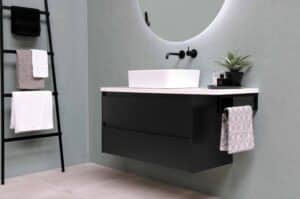 Technology is becoming an increasingly important part of bathroom design, with new and innovative features making it easier to enjoy a spa-like experience in the comfort of your own home. Here are some tech trends to consider when updating your bathroom:
Smart toilets: These high-tech toilets offer a range of functions, including automated lids, heated seats, and built-in bidets. Some models even have sensors that can detect when you approach and automatically lift the lid.
Smart mirrors: These mirrors feature built-in digital displays that allow you to control lighting, adjust the temperature, and even listen to music or watch TV while getting ready.
High-tech showers: From rainforest showerheads to programmable controls, there are numerous ways to add technology to your shower experience. Some models include Bluetooth speakers or waterproof screens for added entertainment options.
Voice-activated controls: With smart devices like Amazon Alexa and Google Home becoming more common in households, voice-activated controls for bathroom fixtures are also gaining popularity. You can now use voice commands to turn on the lights, adjust the temperature, or fill the tub with water.
LED lighting: LED lights not only provide energy-efficient illumination but also come in a variety of colors that can be tailored to create just the right ambiance in your bathroom.
Waterproof speakers: Whether you're listening to music or catching up on your favorite podcast, waterproof speakers can enhance your shower or bath time experience by providing high-quality audio without worrying about water damage.
By incorporating some of these tech trends into your bathroom design plan, you can create a modern and functional space that meets all of your needs while adding value to your home.
Why Consider A Bathroom Overhaul?
Consider a bathroom overhaul for its benefits such as return on investment, safety features, improved functionality and aesthetics, and increased home value.
Return On Investment
Upgrading your bathroom is a costly but worthwhile investment. According to HGTV, homeowners can expect to recoup up to 70% of the cost of their bathroom remodel upon resale.
A stylish and modern bathroom adds value to your home and makes it more attractive to potential buyers.
When considering a bathroom overhaul, keep in mind that some features offer better returns than others. For example, replacing old plumbing fixtures with water-saving models can save both money on utilities and appeal to eco-conscious buyers.
Upgrading lighting fixtures or adding skylights for natural light not only brightens up the room but also enhances its overall appeal.
Safety Benefits
A bathroom renovation can provide many safety benefits for homeowners, especially those with mobility issues or disabilities. Upgrading to grab bars and non-slip flooring can significantly reduce the risk of accidents occurring in the bathroom.
Installing a walk-in shower or tub also provides added safety as they greatly reduce the risk of slips and falls when entering and exiting the shower or bathtub.
For those who require additional assistance, adding features such as a built-in shower seat or raised toilet seat can make daily routines much easier and safer.
According to experts at The Spruce, roughly 80% of falls in households occur in bathrooms due to wet surfaces causing slips/trips/falls resulting from poor grip on tiled floors, slippery bathtub surroundings etc. By opting for slip-resistant materials like textured tiles/surfaces,bath mats one could avoid most common fall-related injuries (like fractures, sprains and head trauma) while updating their old bathroom designs into modern ones which would be both aesthetically pleasing yet safe too .
Increased Functionality
Updating your bathroom design not only improves the aesthetics of the space but also increases its functionality. One trend that has become increasingly popular is incorporating storage solutions into bathroom designs.
Adding shelves or cabinets can help declutter and organize your bathroom, making it easier to keep things tidy. Another way to increase functionality is by updating your plumbing fixtures.
In addition, adding high-tech features such as heated floors or mirrors with built-in lighting can make your morning routine more comfortable and efficient.
Improved Aesthetics
Updating your bathroom's aesthetics is one of the most compelling reasons to consider a bathroom overhaul. By improving the look and feel of your bathroom, you can create a more peaceful and relaxing environment in which to unwind after a long day.
For example, incorporating natural textures into your bathroom design can create a calming and serene space that feels connected to nature. Additionally, high-tech features such as smart lighting or voice-activated faucets can enhance the overall aesthetic appeal while providing added convenience.
Enhanced Home Value
Updating your bathroom can significantly enhance the value of your home. According to recent studies, a bathroom remodel is one of the top home improvement projects that provides a high return on investment.
Updated bathrooms not only increase the functionality and aesthetic appeal of your living space but also make it more attractive to potential buyers if you plan to sell in the future.
With new fixtures, modern appliances, and trendy design elements like statement tiles or natural textures, you can create an eye-catching focal point that adds significant value to your property.
Cost Considerations When Planning A Redesign
Budgeting and financing are essential in planning a bathroom redesign, and homeowners should consider cost-saving tips and working with a professional to ensure their money is well spent.
Budgeting And Financing
When planning a bathroom redesign, it's important to consider budgeting and financing options. Setting a realistic budget can help narrow down design choices and prevent overspending.
Cost-saving tips, such as repurposing existing fixtures or choosing off-brand materials that still meet your aesthetic needs, can also be helpful for keeping within budget.
Working with a professional designer or contractor can also aid in budgeting decisions by providing insight into where expenses may arise and identifying potential cost-cutting measures without sacrificing overall vision.
Cost-saving Tips
Saving money is always a top priority when planning a bathroom renovation. Here are some cost-saving tips to keep in mind:
Prioritize essential updates: Instead of doing a complete overhaul, consider prioritizing the most essential updates first, such as fixing leaks or replacing outdated plumbing fixtures.
Keep the layout: Changing the layout of your bathroom can be costly, so if possible, try to keep the existing layout and make small changes that can still have a big impact.
Repurpose existing materials: Salvage what you can from your current bathroom, such as repurposing tiles or repainting cabinets instead of replacing them entirely.
Focus on affordable alternatives: If you have your heart set on high-end materials but they are out of budget, look for affordable alternatives that offer a similar look and feel.
Shop around for deals: Don't settle for the first price you come across – shop around and compare prices from different retailers to find the best deal.
By following these cost-saving tips, you can still achieve your dream bathroom while sticking to your budget.
Working With A Professional
Hiring a professional to help you with your bathroom redesign can save time, money and stress. A skilled designer can offer valuable insights on layout, color schemes, materials and other design elements that will elevate the look of your space.
Moreover, working with a professional also means accessing their network of trusted suppliers and manufacturers who can provide quality products at reasonable prices. While it may seem like an additional expense to hire a pro for your bathroom renovation project, it is important to consider the long-term benefits in terms of increased functionality, enhanced aesthetics and improved home value.
Conclusion And Visual Examples Of Bathroom Designs.
In conclusion, this complete guide to bathroom designs, trends, and visuals is the ultimate resource for homeowners looking to revamp their bathrooms. From natural textures to statement tiles, we've covered the latest design trends of 2023 and beyond.
Not only do these designs enhance aesthetics but also offer improved functionality and safety benefits. Whether you're on a tight budget or ready to splurge on high-tech features, our cost-saving tips and insight into bathroom overhauls will point you in the right direction.
FAQs:
Q: What are the latest bathroom trends for 2023?
A: The latest bathroom trends for 2023 include incorporating spa elements into the design, using luxe materials such as marble, and creating a minimalistic vibe with clean lines and a neutral color palette.
Q: What are some popular bathroom layouts?
A: Some popular bathroom layouts include the traditional full bathroom layout with a bathtub, shower, toilet, and sink, as well as a half bathroom layout with just a toilet and sink for a smaller space.
Q: What fixtures are on-trend in bathroom design?
A: On-trend fixtures in bathroom design include walk-in showers with glass doors, contemporary sinks with clean lines, and pendant lighting for added ambiance.
Q: How can I incorporate a spa vibe into my bathroom design?
A: You can incorporate a spa vibe into your bathroom design by using natural materials such as wood and stone, adding plants and lighting for relaxation, and creating a soothing color palette with earthy tones.
Q: What is the best bathroom design style for a small space?
A: The best bathroom design style for a small space is a minimalist approach with clean lines, neutral colors, and space-saving fixtures such as a corner sink and a wall-mounted toilet.
Q: How important is bathroom planning when designing a new bathroom?
A: Bathroom planning is crucial when designing a new bathroom because it ensures that the space is functional, efficient, and meets your personal style and needs.
Q: What is the role of interior design in bathroom design?
A: Interior design plays a significant role in bathroom design as it focuses on creating a cohesive and aesthetically pleasing space that reflects your personal style and meets your practical needs.
Q: What are some creative tile work options for a bathroom?
A: Some creative tile work options for a bathroom include using colorful ceramic tiles, incorporating mosaic designs, and creating a statement wall with textured or patterned tiles.
Q: What are some classic bathroom design elements?
A: Some classic bathroom design elements include a clawfoot bathtub, pedestal sink, and subway tile for a timeless and elegant look.
Q: What are some tips for choosing the right plumbing fixtures?
A: Some tips for choosing the right plumbing fixtures include considering the style, finish, and practicality of the fixtures, as well as your personal preferences and budget. It's also important to consult with a professional for installation and maintenance guidance.