Introduction
Transforming your bathroom into a stunning oasis begins with choosing the perfect tile. In this blog post, we've compiled 17 fabulous and impactful bathroom tile ideas to inspire you, whether you're remodeling or simply looking for a fresh update.
From luxe marble to vibrant color palettes, these designs not only elevate the style but also enhance the overall aesthetics of your space.
Key Takeaways
Luxe marble and simple subway tiles are a timeless combination that adds elegance and sophistication to any bathroom.
Playful scale variations, vibrant colorful tiles, and unique eye – catching tiles can add personality and character to your space.
Rectangular shower tiles, large – scale tiles, terrazzo tiles, bold pink tiles, artistic tile patterns, and creative laying patterns offer versatility in creating stunning visual interest while maintaining functionality.
Incorporating all these ideas with creativity allows one to transform their bathroom into an artistic masterpiece with personalized touches that fit both aesthetics preferences and functional needs.
Popular Bathroom Tile Ideas
Luxe marble and simple subway tiles, rectangular shower tiles, large-scale tiles, terrazzo tiles, bold pink tiles, artistic tile patterns, playful scale variations, vibrant colorful tiles, unique eye-catching tiles and creative laying patterns are ten of the most popular bathroom tile ideas.
Luxe Marble And Simple Subway Tiles
Luxe marble and simple subway tiles are a tried-and-true combination that can bring elegance and sophistication to any bathroom. This classic pairing works beautifully in various settings, from traditional to modern designs.
For homeowners seeking a timeless look, the smooth, polished finish of luxe marble tiles creates an air of opulence while remaining easy to maintain.
On the other hand, simple subway tiles offer versatility and affordability without sacrificing style. These rectangular ceramic or porcelain tiles come in a wide array of colors and finishes, allowing homeowners to customize their space without breaking the bank.
Many people opt for crisp white subway tile paired with contrasting grout lines for a clean yet visually appealing look that complements luxurious marble elements effortlessly.
Additionally, creative laying patterns such as herringbone or vertical stacks add interest and depth to this popular bathroom tile choice.
Rectangular Shower Tiles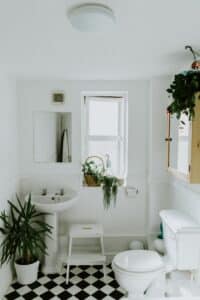 Rectangular shower tiles have become a popular choice among homeowners seeking to add visual interest and sophistication to their bathroom. This versatile tile shape works wonders in creating a wide range of design styles, from sleek modern looks with large-format glass tiles to charming rustic elegance with weathered wood-look ceramic options.
When arranged horizontally, these tiles can visually elongate the space, making small bathrooms feel more spacious.
One example of this sensational style is featured in-house number five on our list of 17 fabulous bathroom tile ideas: white subway tiles paired with eye-catching black grout that brings contrast and depth into the mix.
The combination provides an undeniably classic yet contemporary look that seamlessly integrates into various bathroom designs while adding both charm and functionality for years to come.
Large-Scale Tiles
Large-scale tiles are an increasingly popular choice among homeowners seeking to create a visually impressive and modern bathroom space.
These oversized tiles instantly evoke a feeling of luxury and contemporary style, as they provide clean lines and minimal grout joints, giving the illusion of more space in your bathroom.
However, it's essential to ensure that these expansive tiles suit your overall bathroom design before committing to them for walls or floors. Contrasting large-scale tiles with smaller mosaic or patterned accent pieces can add depth and interest while maintaining visual harmony within the room.
For example, incorporating a bold marble tile on one wall can turn an otherwise ordinary shower area into a chic focal point, seamlessly blending with the rest of your decor.
Terrazzo Tiles
Terrazzo tiles have become increasingly popular in recent years due to their versatile and visually stunning design. Made up of a combination of marble, quartz, granite or glass chips mixed into concrete or resin, these unique tiles create a speckled effect that can be customized with different colors and shapes to suit any aesthetic.
Terrazzo tiles work well for both walls and floors in the bathroom space and are perfect for those seeking a bold twist on traditional tiling options like subway or mosaic tile patterns.
Furthermore, incorporating terrazzo into your bathroom tile ideas can offer endless opportunities for customization as it easily pairs with various design styles from mid-century modern to bohemian chic.
Bold Pink Tiles
Bold pink tiles are a perfect way to add some excitement and energy to your bathroom. These tiles can come in various shapes, sizes, and patterns, offering a fun twist on conventional design styles.
Whether you opt for large, solid-colored pink tiles or mix it up with artistic tile patterns featuring different shades of pink hues, these bold choices will be sure to make your space pop.
For example, pairing blush-pink square or hexagon-shaped tiles with matte black fittings brings an edgy modern look that is both trendy and timeless. Additionally, if you have a large enough space in your bathroom, using larger format bold pink tiles on the walls creates an eye-catching feature that complements white or gray subway tiling well.
Artistic Tile Patterns
Looking for a way to add personality and flair to your bathroom? Consider incorporating artistic tile patterns into your design. From intricate mosaics to bold geometric designs, there are countless ways to use tiles as a canvas for creativity in the bathroom.
These patterns can become the focal point of the space or simply add visual interest when used as accents.
In addition, using artistic tile patterns allows you to customize the look of your space according to your personal style preferences. You can opt for classic black-and-white checks, go bolder with bright colors, or even create one-of-a-kind designs through custom mosaics.
With so many options available, it's easy to make a statement in your home while keeping functionality and durability top-of-mind.
Playful Scale Variations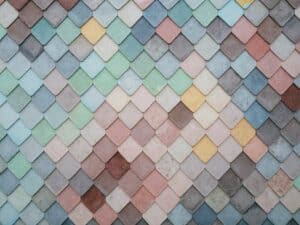 Playful scale variations are one of the most fun and creative ways to introduce visual interest and depth into your bathroom tile design. By playing with different sizes, shapes, and layouts of tiles, you can create a unique personality for your space that is full of character.
A great example is using tiny penny tiles on the shower floor or as an accent in the bathroom backsplash. You could also opt for oversized rectangular tiles stacked horizontally on walls or floors to add a modern touch.
Adding playful scale variations to your bathroom tiling not only creates an eye-catching design but helps make smaller spaces feel more spacious by creating optical illusions of depth and height.
This makes them perfect for bathrooms where real estate is limited but still want an attractive bathroom sanctuary.
Don't settle for boring plain old beige in your next remodel–try some playful tile scales instead!
Vibrant Colorful Tiles
Colorful tiles can help to add a touch of personality and character to any bathroom. By incorporating bold, bright colors, homeowners can create an inviting space that feels lively and energetic.
Some popular options include combining blue and green for a calming coastal vibe or pairing pink with grey or black for a chic, modern aesthetic. In addition to its visual appeal, colorful tile can also help to make a small bathroom feel larger by creating the illusion of more space.
Unique Eye-Catching Tiles
If you're looking for a tile design that takes boldness to its limits, then unique and eye-catching tiles might be the best option for your bathroom. These tiles can transform your space into an artistic masterpiece with their intricate patterns, bold colors, or unusual shapes.
For instance, mosaic tiles in various hues and textures add depth and dimensionality to any space that no other material can match. Meanwhile, colored grout along with subway or geometrical-shaped ceramic tiles is becoming an increasingly popular trend in bathrooms.
The key to finding the perfect unique tile is choosing something that fits both your aesthetic preferences and functional needs while making sure it complements the rest of your decor harmoniously without overwhelming the space .
Creative Laying Patterns
Make a statement with your bathroom tile by exploring creative laying patterns. Don't be afraid to mix and match materials, sizes, shapes, and colors to create unique designs that speak to your personal style.
If you're looking for something playful yet sophisticated, consider using an artistic tile arrangement on a feature wall or shower niche. This could include scalloped tiles or herringbone patterns laid in unexpected color combinations like pink and green or black and white.
Stunning Floor Tiles
Stunning floor tiles are sure to bring a touch of luxury to any bathroom space. Large format tiles in natural materials like marble or terrazzo can create an elegant and timeless look, while patterned mosaic tiles provide a fun twist to traditional bathroom designs.
Not only do beautiful floor tiles add visual interest, but they also offer functional benefits such as increased durability and easy maintenance. Consider adding a pop of color with vibrant glazed porcelain tile or opt for classic black and white square tiles for a timeless look that will never go out of style.
Mixing And Matching Styles
Mix different tile materials, sizes, and shapes to create a unique and cohesive bathroom design that will stand out.
Combining Different Tile Materials
Combining different tile materials can create a stunning and unique look for your bathroom. Here are some ideas to inspire you:
Mix and match natural stone tiles with glass or porcelain tiles for a modern and sophisticated feel.
Pair metallic tiles with glossy ceramic tiles for an edgy and industrial look.
Incorporate wood-look tiles with concrete-style tiles for a rustic yet contemporary vibe.
Combine pebble tiles with marble or granite to add texture and depth to your flooring.
Use mosaic tiles made from various materials like glass, stone, and porcelain to create a one-of-a-kind feature wall.
By combining different tile materials, you can add visual interest, dimension, and personality to your bathroom space. Remember to choose materials that complement each other in color, texture, and style. With the right combination of tile materials, you can achieve a unique look that will transform your bathroom into a little sanctuary in your home.
Layering Different Tile Sizes And Shapes
To create a visually interesting bathroom floor or wall, layering different tile sizes and shapes can add texture and depth. Here are some tips for doing it right:
Play with contrasting shapes: Square tiles can be paired with small hexagonal tiles to create an eye-catching pattern.
Mix up the sizes: Using various sizes of rectangular tiles in the same color can create a sleek, modern look.
Combine textures: Matte and glossy tiles can be layered together to add dimension to a feature wall or shower area.
Use mosaic insets: Adding a small mosaic tile inset into a larger field of tile can add a pop of color and interest.
Create pathways: By using smaller, circular tiles as stepping stones through your bathroom floor, you're able to add some whimsy while creating visual interest.
Find balance: When layering different tile sizes and shapes, it's important to find balance in colors, materials, and patterns.
By layering different tile sizes and shapes in your bathroom design, you can transform your space into something unique and beautiful. And with the durability of bathroom tiling options, you can enjoy your personalized space for years to come!
Creating Luxe Veining Patterns
Luxe veining patterns are an excellent way to add texture and depth to bathroom tiles. Whether you choose marble or porcelain, the natural-looking veins provide a sense of luxury that's hard to beat.
One way to create luxe veining is by using larger format tiles like those found in Large-Scale Tiles. These larger tiles offer more space for the vein pattern to flow naturally and give the appearance of high-end materials without breaking your budget.
Another approach is mixing different tile designs, combining paints like Terrazzo Tiles with Luxe Veins offer texture while still maintaining a cohesive look tied together by their color palette.
Styling Tile Insets And Accents
Tile insets and accents are small details that can make a big impact in your bathroom. Inset tiles can create interest by breaking up larger expanses of tile, while accent tiles draw the eye to specific features like shower niches or vanity areas.
Mixing different materials like stone and ceramic tiles for insets is also a great way to add visual interest to walls and floors. You could use porcelain floor tile with marble border insets to create definition between zones in your bathroom, such as the separate spaces for the toilet, sink and bath/shower area.
Creative Tile Applications
Get inspired by our creative tile application ideas, from styling sink splashbacks to tiling over imperfections – there are endless possibilities to transform your bathroom!
Stylish Sink Splashbacks
For a simple and easy way to update your bathroom, consider adding stylish sink splashbacks. These tiles can provide an eye-catching focal point for the space while also protecting the wall behind your sink from water damage.
From classic subway tiles to bold patterns and colors, there are endless options to choose from. For example, you might add decorative Moroccan-style tiles in a contrasting color that complements your existing tile or opt for sleek glass mosaic tiles for a modern look.
Not only do sink splashbacks make for a visually appealing addition to any bathroom, but they're also functional. They protect walls against water damage and stains caused by toothpaste or other grooming products.
Plus, installing them is an affordable home improvement project that requires little time and effort but delivers significant results in transforming your space.
Tiling Over Imperfections
Are you tired of looking at that unsightly crack in your bathroom wall? Tiling over imperfections can offer a simple solution without breaking the bank on expensive repairs.
This easy trick not only saves money, but it also adds texture to your bathroom and can give the illusion of more space.
Consider using large-scale tiles or creative laying patterns to cover up any bumps or cracks in your bathroom walls. For example, horizontal tiling can elongate the space while diagonal tiling adds visual interest.
Additionally, using a repeating pattern or mosaic tile design can draw attention away from imperfections and create a stunning focal point in the room.
Tiling The Bath
Tiling the bath is a great way to add visual interest and texture to your bathroom. You can choose from a variety of tile styles, such as large-format tiles that make a small space feel bigger or patterned tiles that create a bold statement.
In addition, you can also opt for accenting one wall with penny or mosaic tiles, providing an extra pop of color and character into the room. Tiling your bath not only enhances its appearance but also provides practicality as it keeps water away from areas where it shouldn't be.
Trendy Tile Styles
Trendy tile styles are all about pushing the boundaries of traditional bathroom design. One popular trend is using kit kat tiles, which add a unique touch to any bathroom surface.
These small rectangular tiles come in various materials and colors that can be used alone or combined for a striking effect. Another trendy style seen in many modern bathrooms is large-format tiles.
If you're looking for something bolder, try adding colored or patterned tile accents to your bathroom walls or floor. Popular options include geometric patterns or artisanal mosaics that showcase intricate details and bold hues like bright blues and greens.
Furthermore, textured tiles also provide an excellent way to add depth and interest to your space without overwhelming it with too much visual stimulation.
Defining Zones With Wall Tiles
Another great way to use bathroom tiles is by defining zones with them. For example, you can separate the shower area from the rest of the bathroom by using a different type of wall tile or a different pattern or color on one section of the wall.
Using wall tiles to define zones not only adds visual interest but also helps with organization and functionality. It allows for easier cleaning and maintenance as well as creating an illusion of more space.
For instance, using small mosaic tiles in a shower niche can make it stand out while also providing practical storage for your shampoo bottles and soaps.
Tips For Choosing The Right Bathroom Tile
Consider the style and function of your space, choose a cohesive color palette, and think about tile durability and maintenance when selecting bathroom tile; for more helpful tips on how to make the perfect choice for your home, keep reading!
Consider The Style And Function Of Your Space
When choosing bathroom tiles for your renovation, it's essential to consider both the style and function of your space. Think about how you use your bathroom, who uses it, and what mood or atmosphere you want to create.
On the other hand, if you're renovating a smaller master en-suite that's mostly used by just one or two people looking for an oasis-like escape from everyday life, then intricate patterns and luxe marble might be more suitable choices.
Neutral tones like white subway tiles are still popular with homeowners due to their timeless appeal; they can blend seamlessly into any design scheme without overwhelming the rest of your decor.
Ultimately, every homeowner should choose materials that complement their desired look while providing practicality in keeping up with cleaning efforts over time- make sure they aren't too slippery when wet! Assemble design inspiration by browsing Pinterest boards for ideas on which direction would fit best within those criteria before starting any renovation project – but don't forget about budget constraints either!
Choose A Cohesive Color Palette
It's essential to choose a cohesive color palette when considering bathroom tile ideas. A simple way to achieve this is by selecting a neutral base, such as white or beige, and then adding pops of color through your tile choices.
For example, pairing white subway tiles with bold pink floor tiles can create a fun and modern look. Additionally, using different shades of the same color family can add depth and dimension to your space.
Another important consideration is matching your tile colors with other elements in the space like fixtures and hardware, which can tie everything together beautifully. By choosing complementary hues for these details, you'll create harmony throughout the entire room.
Think About Tile Durability And Maintenance
When selecting bathroom tiles for your home, it's important to consider the durability and maintenance requirements. Tiles in high-traffic areas require tougher materials that can withstand wear and tear over time.
However, natural stone like marble or travertine may require more attention since they're porous and sensitive to chemicals.
It's also essential to choose grout colors carefully based on how easily dirt shows up on them. Light-colored grout tends to discolor over time compared to darker shades.
Conclusion: Transforming Your Bathroom With Impactful Tile Ideas.
In conclusion, the bathroom is one of the essential rooms in your home, and it deserves to look its best. With these 17 fabulous bathroom tile ideas, you can transform your space with impactful designs that reflect your personal style.
From luxe marble and simple subway tiles to bold pink patterns and decorative insets, tiling has never been more fun! By mixing and matching styles or layering different tile sizes and shapes, you can create a unique aesthetic that elevates the overall appearance of the room.
Don't forget about creative applications like sink splashbacks or defining zones with wall tiles that add both function and beauty.
FAQs:
Q: What are the best bathroom tile ideas for a small bathroom?
A: Opt for smaller tiles like penny tile or mosaic tile in lighter colors to give the illusion of a larger space. You can also experiment with tile patterns to add depth and interest to the room.
Q: How can I incorporate marble tile into my bathroom design?
A: Marble tile is a classic choice for bathrooms and can be used for anything from the shower walls to the vanity countertop. It adds a luxurious touch to the space and pairs well with both modern and traditional design styles.
Q: Is subway tile still a popular choice for bathroom walls?
A: Absolutely! Subway tile has a timeless appeal and gives any bathroom a clean and classic look. It's versatile enough to work with any design style and can be used as a subtle backdrop or a striking feature.
Q: What is the best type of tile to use for a bathroom floor?
A: Porcelain or ceramic tiles are the most practical choices for bathroom floors as they can withstand moisture and are easy to clean. Opt for a non-slip finish to prevent slipping and accidents.
Q: What are the current tile trends for bathrooms?
A: Hexagonal tiles, geometric patterns, and bold colors are all popular choices for bathroom tile designs right now. Mixing and matching different tile shapes and sizes is also a trend that's gaining popularity in modern bathroom designs.
Q: Is it better to use small or large tiles in a bathroom?
A: It ultimately depends on the size and style of your bathroom. Smaller tiles work well for smaller bathrooms while larger tiles can help create a seamless look in larger spaces. Both can be used to create a visually striking design depending on the pattern and layout.
Q: What is the best way to incorporate texture into a bathroom with tile?
A: Patterned floor tile, textured subway tile, and even mosaic tiles can add texture and depth to a bathroom. Experiment with different tile patterns and finishes to add visual interest and create a unique look.
Q: Can black bathroom tiles work in a small bathroom?
A: Absolutely! Black tiles can add a striking and dramatic touch to any bathroom. Pair them with contrasting white fixtures and accessories to create a high-contrast look, or use them to create a bold monochromatic design.
Q: Are green tiles a good choice for a bathroom?
A: Green tiles can add a fresh and natural touch to a bathroom. They work well with both modern and traditional design styles and can be used as a subtle accent or a bold statement.
Q: What are some bold bathroom tile design ideas to inspire my next remodel?
A: Consider using patterned floor tile, 3D textured tiles, or even sculptural tiles to create a striking and unique bathroom design. Mixing and matching different tile shapes and colors can also make a big impact.