If you're craving a kitchen makeover that's vibrant, fresh and invigorating – a lemon-themed decor might be just the squeeze. According to interior designers, this newfound trend infuses your cooking space with a delightful blast of citrusy brightness.
This article shares 10 stunning lemon kitchen decor ideas tailored to transform your space into an inviting haven of zestiness and cheerfulness. Ready for a juicy home refresh?.
Key Takeaways
Lemon – themed decor adds vibrancy and cheerfulness to your kitchen space.
Lemon wallpaper, farmhouse – inspired tiered trays, lemon printed drapery, and playful lemon rugs are stylish ways to incorporate a citrusy theme into your kitchen.
Lemon kitchen decor art prints, lemon tea towels, and lemon dinnerware and glasses brighten up your dining experience while adding a pop of color and style.
DIY projects like painted mason jars, lemon wreaths, and citrus coasters allow for personalization in your lemon-themed kitchen decor.
Incorporate a touch of citrus into your kitchen with these lemon-themed decor ideas.
Breathing life into your kitchen decor doesn't have to be complicated. Consider introducing a bright and stylish lemon wallpaper as an accent wall, or even covering all walls for maximum impact.
The cheerful yellow hues associated with lemons can awaken the senses and inspire creativity in your cooking adventures. Lemon-themed wallpaper encompasses various styles, from abstract to farmhouse, fitting seamlessly into any existing aesthetic or inspiring a complete kitchen makeover.
Each glance at this unique design element will transport you straight to a sunny citrus grove—minus the airfare! With interior design trends in 2023 poised to embrace new colors and moods, opting for lemon wallpaper could bring that fresh energy your kitchen needs while keeping it on-trend.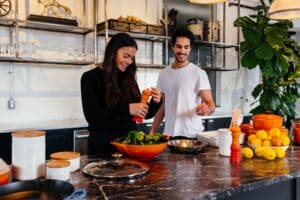 A Farmhouse Lemon Kitchen Decor Tiered Tray is a must-have centerpiece for your kitchen. This unique item, with its rustic farmhouse style and bright yellow lemon accents, injects vibrancy into the space while also providing functional value.
Crafted from sturdy materials like wood or metal, these tiered trays typically feature artwork of luscious lemons, adding an element of charm and freshness synonymous with citrus fruit.
Whether you choose to use it as a decorative piece or to hold coffee mugs, tea towels, fresh lemons or other kitchen accessories – this versatile decor item never fails to impress guests.
What's more? You can shop lemon decor items at affordable prices at local home stores or online platforms like Amazon and Walmart. For DIY enthusiasts who love customizing their decor pieces – consider painting wooden boards vibrant shades of yellow and blue before arranging them on the tray for that unique homemade touch.
This way the Farmhouse Lemon Kitchen Decor Tiered Tray not only brightens up your kitchen countertop but serves as a reflection of your personal taste and creativity too! A well-decorated tiered tray acts as both – an accent piece that pulls together the overall theme and a practical display station to help keep countertops clutter-free.
Infuse your kitchen with a pop of yellow by incorporating a lemon-themed bar cart into your space. This versatile item isn't just for storing and serving drinks, it also serves as a striking style statement.
Imagine an artfully arranged collection of citrus-themed serveware, glasses, and cheerful lemon decor sitting on each tiered tray of the cart. A sparkling pitcher of homemade lemonade, complete with actual lemons as accents, can be the crowning touch to this display.
With its bright color and unique design elements featuring luscious fruit prints or patterns, such a decor element not only results in an inviting ambiance but brings brightness that echoes summer vibes all year round.
This idea is ideal for households seeking affordable yet distinctive ways to decorate their kitchens while embracing 2023 interior design trends showcasing fresh textures and materials.
Lemon printed kitchen drapery is a fantastic way to add a touch of freshness and vibrancy to your kitchen decor. These colorful curtains feature lemon designs that can instantly brighten up your space and create an inviting atmosphere.
The citrus-themed patterns on the drapery are not only eye-catching but also evoke a sense of energy and positivity. With their cheerful colors and lively prints, lemon printed kitchen draperies are sure to liven up any dull or plain windows in your kitchen.
Whether you opt for curtains with large lemon motifs or subtle lemon accents, these draperies will bring a delightful splash of color and style to your cooking area. So why not embrace the zestiness of lemons by incorporating them into your kitchen decor through these stunning printed draperies?.
Playful Lemon Rug
One fun and vibrant addition to any lemon-themed kitchen decor is a playful lemon rug. This cheerful and eye-catching accent piece instantly adds a pop of color and personality to the space.
The lemon pattern on the rug brings a touch of freshness and zest, creating an inviting atmosphere for family and friends. Whether placed in front of the sink or by the stove, this playful lemon rug serves both as a functional item for comfort underfoot and as a decorative element that ties together the citrus theme.
With its bright yellow hue, it complements various kitchen styles, from farmhouse to modern. Bring summer vibes into your home with this lighthearted and delightful addition to your kitchen decor collection.
Lemon kitchen decor art prints are a fantastic way to add vibrant and refreshing accents to your kitchen. These art prints feature beautiful lemon-themed designs, showcasing the bright yellow citrus fruit in all its luscious glory.
Hang them on your kitchen walls or place them on open shelves for an instant pop of color and style. Lemon kitchen decor art prints come in various sizes and styles, allowing you to choose the perfect piece that complements your existing decor.
Whether you prefer modern or farmhouse-style artwork, there is a wide range of options available to suit any taste. With their cheerful and inviting designs, lemon art prints will surely bring a sense of freshness and energy into your kitchen space.
Lemon tea towels are a delightful addition to any kitchen decor, adding a splash of vibrant color and a refreshing citrus theme. These bright and cheerful linens are not only functional but also serve as decorative accents that can instantly liven up your kitchen space.
Whether you choose lemon-patterned or lemon-colored tea towels, they will bring a sense of freshness and energy to your kitchen. Lemon tea towels can be hung on hooks or draped over the handle of your oven or dishwasher for easy access while also adding a pop of color to the room.
Not only do they add visual appeal, but these tea towels are also great for wiping spills and drying dishes in style. Incorporating lemon tea towels into your kitchen decor is an affordable way to brighten up the space and embrace the playful charm of citrus-inspired design.
Lemon Dinnerware and Glasses
Brighten up your kitchen table with lemon-themed dinnerware and glasses. Adding these vibrant pieces to your collection will instantly bring a cheerful touch to mealtime. Lemon-patterned plates and bowls not only look beautiful, but they also add a pop of color to your dining experience.
Pair them with lemon-designed glasses to create a cohesive and refreshing citrus theme. Whether you're hosting guests or simply enjoying a meal with family, using lemon dinnerware and glasses is the perfect way to infuse energy into your kitchen decor.
So go ahead, elevate your dining experience with these luscious lemon accents!
Craft Your Own Lemon Decor
Looking to add a personal touch to your lemon kitchen decor? Get creative and craft your own lemon-themed decorations! Here are some fun and easy ideas to try:
Painted Lemon Mason Jars: Transform plain mason jars into cheerful vases or utensil holders by painting them in bright yellow and adding lemon-inspired designs.
Lemon Wreath: Make a stunning lemon wreath for your kitchen door using artificial lemons, a grapevine wreath base, and some greenery. It's a refreshing way to greet guests!
Lemon Garland: String together paper or fabric lemons to create a festive garland that can be hung above windows, cabinets, or along your kitchen backsplash.
Lemon Scented Candles: Enhance the ambiance of your kitchen with homemade lemon-scented candles. Simply melt candle wax and add lemon essential oil for a fragrant touch.
Citrus Coasters: Protect your countertops while adding a pop of color with DIY citrus-inspired coasters made from cork or ceramic tiles painted with vibrant lemon patterns.
Lemon Centerpiece Bowl: Fill a decorative bowl with faux lemons for an eye-catching centerpiece on your dining table or kitchen island.
Lemon Wall Art: Get artistic and paint or print your own lemon-themed artwork using canvas or repurposed picture frames.
Lemon Tea Towels: Give plain tea towels a makeover by stenciling or sewing on yellow lemons for a playful touch in your kitchen decor.
Citrus Pot Holders: Sew cute pot holders in the shape of lemons using bright yellow fabrics, perfect for adding charm while protecting your hands from hot pots and pans.
Citrus Apron: Customize an apron with lemon appliques or fabric paint so you can cook in style while embracing the citrus theme.
Use Lemons as a Centrepiece
Enhance the beauty of your kitchen by using lemons as a centerpiece. Place a bowl filled with fresh lemons on your dining table or kitchen island to create a vibrant and inviting focal point.
The bright yellow color of the lemons will add a pop of freshness to your space, instantly brightening up the room. Not only do they look visually appealing, but lemons also provide a refreshing citrus scent that can uplift your mood while you dine or cook.
By incorporating this simple and affordable decor idea, you can easily transform your kitchen into a welcoming and lively space that exudes positive energy.
Creative Kitchen Wall Decor Ideas for Lemon Theme
Give your kitchen walls a citrusy twist with these creative lemon-themed wall decor ideas:
Lemon Wallpaper: Transform your kitchen walls with vibrant lemon wallpaper. Choose a pattern that suits your style, whether it's a bold and graphic lemon print or a more subtle citrus motif.
Lemon Wall Art: Add a pop of color to your kitchen walls with lemon-themed art prints. Look for bright and cheerful pieces featuring lemons, lemonade, or other citrus fruits. Hang them in frames or create a gallery wall for maximum impact.
DIY Lemon Wall Stencils: Get creative and make your own lemon wall stencils. Use them to paint fun and whimsical lemon designs directly onto your kitchen walls. Experiment with different sizes and shapes to create a unique look.
Lemon Wall Decals: If you're looking for an easy and temporary way to add lemon decor to your kitchen walls, try using lemon wall decals. These peel-and-stick stickers come in various sizes and can be easily removed without damaging the paint.
Floating Lemon Shelves: Create functional and decorative storage space on your kitchen walls with floating shelves shaped like lemons. Use them to display small potted plants, colorful dishware, or even jars filled with preserved lemons.
Lemon Plate Wall Display: Showcase your collection of vintage or decorative plates featuring lemon designs by arranging them on the wall in an eye-catching display. Mix and match different sizes, patterns, and colors for an eclectic look.
Citrus Fruit Basket Wall Hangings: Add texture and visual interest to your kitchen walls by hanging woven baskets filled with artificial lemons or other citrus fruits. This unique wall decor idea brings a touch of rustic charm to any space.
The Ultimate Guide to Kitchen Counter Decor with Lemons
Transform your kitchen counter into a bright and inviting space with these lemon – themed decor ideas.
Place a bowl of fresh lemons on the counter for a vibrant pop of color and a refreshing scent.
Use lemon – printed oven mitts and dish towels to add a playful touch to your kitchen decor.
Display lemon-shaped cutting boards or citrus-inspired trivets as functional and decorative elements.
Incorporate lemon – patterned canisters or jars to store kitchen essentials like flour, sugar, and coffee beans.
Add a touch of elegance with lemon – scented candles or diffusers for a pleasant aroma in the kitchen.
Hang lemon-themed wall art or prints above the counter for an eye-catching focal point.
Arrange lemons in a stylish fruit basket or rustic wooden crate for an organic and inviting look.
Utilize lemon – themed salt and pepper shakers, utensil holders, and napkin holders to complete the cohesive theme.
Mix and match different shades of yellow in your kitchen accessories, such as mugs, bowls, and plates, for added visual interest.
Creative Kitchen Island Decor Ideas with Lemons
Use a lemon – patterned table runner or placemats to add a pop of color and freshness to your kitchen island.
Display a beautiful bowl of lemons as a centerpiece on your kitchen island for an instant burst of vibrant citrus charm.
Hang lemon – themed art prints or signs on the walls above your kitchen island to create a cheerful and inviting atmosphere.
Place lemon – scented candles or diffusers on your kitchen island to fill the space with a refreshing aroma.
Incorporate lemon-shaped or lemon-printed dishware, such as bowls, plates, and mugs, to add a playful touch to your kitchen island decor.
That's it!
How to Incorporate Lemons Into Your Kitchen Decor
Accessorize your countertops with lemon decor, add fresh lemons to a kitchen island, create a lemon-themed breakfast area, and decorate with lemons in place settings. There are endless ways to incorporate this citrusy fruit into your kitchen decor! Read on for more ideas on how to bring the vibrant energy of lemons into your space.
Accessorizing Countertops with Lemon Decor
To enhance your kitchen's aesthetic, consider accessorizing your countertops with vibrant lemon decor. These refreshing and cheerful accents will brighten up the space and create a lively atmosphere. Here are some creative ideas to incorporate lemon-themed decorations into your countertop decor:
Lemon Kitchen Canisters: Add a pop of color and citrus charm to your countertop by displaying lemon-patterned canisters. These can be used to store spices, coffee, or other dry ingredients, while also adding a playful touch.
Lemon Utensil Holder: Keep your cooking utensils organized and easily accessible with a lemon-themed utensil holder. This practical yet stylish accessory will add a cheerful vibe to your countertop.
Lemon Cutting Board: Opt for a cutting board with a lemon design for both functionality and visual appeal. Not only will it serve as a practical surface for meal preparation, but it will also become an eye-catching accent piece.
Lemon Salt and Pepper Shakers: Spice up your countertop (quite literally) with adorable salt and pepper shakers in the shape of lemons. These small details can make a big impact on the overall look of your kitchen.
Lemon Coasters: Protect your countertops from heat and moisture while adding a touch of zest with lemon-themed coasters. They will not only serve their purpose but also act as decorative elements when not in use.
Lemon Soap Dispenser: Make handwashing more enjoyable by placing a lemon-shaped soap dispenser on your countertop. This functional item adds a citrusy twist to your kitchen decor.
Lemon Fruit Bowl: Showcase fresh lemons in a stylish fruit bowl on your countertop, creating an instant burst of color and freshness. This simple yet effective decor idea adds visual interest to any kitchen space.
Lemon Candle Holders: Set the mood in your kitchen with lemon-shaped candle holders that emit soft flickering light during meals or gatherings. These decorative accents will create a warm and inviting ambiance.
Lemon Ceramic Plates: Display decorative ceramic plates with lemon motifs on a stand or easel for an artistic and unique touch. This adds a sophisticated yet playful element to your countertop decor.
Lemon Wall Art: Hang lemon-themed wall art on the backsplash area behind your countertop, elevating the overall look of your kitchen while showcasing your love for citrus aesthetics.
Adding Lemons to a Kitchen Island
Adding lemons to a kitchen island is a simple and effective way to infuse your space with a burst of color and freshness. Here are some ideas on how you can incorporate this citrusy fruit into your kitchen island decor:
Lemon-themed centerpiece: Place a bowl filled with fresh lemons in the center of your kitchen island. This not only adds a pop of vibrant yellow but also fills the air with their invigorating scent.
Lemon-inspired table settings: Set up a lemon-themed table setting on your kitchen island. Use lemon-patterned placemats, napkins, and dishware to create a cheerful and cohesive look.
Lemon-infused water station: Create an enticing lemon-infused water station on your kitchen island by placing a pitcher filled with water and slices of fresh lemons. Add some mint leaves for an extra refreshing touch.
Lemon-shaped cutting board: Display a lemon-shaped cutting board on your kitchen island as both a functional and decorative piece. It adds visual interest and can be used as a serving platter or cutting surface when needed.
Lemon-scented candles or diffusers: Incorporate the fresh aroma of lemons into your kitchen island decor by lighting lemon-scented candles or using diffusers that release the scent throughout the space.
Lemon-inspired artwork: Hang lemon-themed artwork above or near your kitchen island to create an eye-catching focal point. Look for prints or paintings that feature lemons or citrus fruits in bright, bold colors.
Citrus-inspired bar cart: If you have enough space on your kitchen island, consider adding a mini bar cart dedicated to all things citrusy. Display bottles of lemon-flavored spirits, cocktail garnishes like lemon wedges, and fun accessories like lemon-shaped bottle openers.
Lemon-themed storage containers: Use glass jars or decorative containers labeled with "lemons" to store utensils, spices, or pantry staples on your kitchen island. Not only does this keep your essentials within reach, but it also adds a touch of charm to the space.
Lemon-shaped fruit basket: Opt for a fruit basket in the shape of a lemon to store your fresh produce on the kitchen island. This playful and unique piece will add a delightful touch to your countertop.
Lemon-inspired bar stools: Swap out your regular bar stools for ones with lemon-themed upholstery or cushions. This unexpected twist will add a fun and lively element to your kitchen island seating area.
Creating a Lemon-themed Breakfast Area
Transform your kitchen into a vibrant and energizing space by creating a lemon-themed breakfast area. With these refreshing ideas, you can start your day on a citrus-filled note:
Set the table with lemon – printed placemats and bright yellow napkins to instantly add a pop of color.
Use lemon – themed dishware, such as plates and bowls adorned with lemon illustrations, for a playful touch.
Place a bowl of fresh lemons as a centerpiece on the breakfast table, adding both style and functionality.
Hang lemon – inspired artwork or prints on the surrounding walls for an artistic touch.
Incorporate lemon – scented candles or diffusers to infuse the breakfast area with a refreshing aroma.
Add a citrus – inspired table runner or tablecloth to enhance the cheerful ambience.
Display vintage mason jars filled with freshly squeezed lemonade for a nostalgic touch.
Arrange fresh flowers in vases decorated with yellow ribbons or tied with lemon – shaped charms for an elegant look.
Consider adding lemon – patterned seat cushions or chair covers to tie in the theme effortlessly.
Complete the look by placing fresh citrus fruits in decorative baskets as additional accents.
Decorating with Lemons in Place Settings
Elevate your dining experience with lemon – themed place settings that will add a vibrant touch to your kitchen decor.
Start by using lemon-printed placemats and coordinating napkins to set the stage for a citrus-inspired meal.
Incorporate lemon-shaped napkin rings or citrus-themed table runners to further enhance the theme.
Consider using lemon – shaped salt and pepper shakers as charming accents on the table.
Complete the look with lemon – decorated plates and bowls for a cheerful and fresh dining experience.
For a more rustic feel, opt for wooden chargers or placemats paired with lemon – patterned dishes.
Don't forget to include luscious lemons as part of your centerpiece. Place them in a decorative bowl or arrange them in a stylish fruit basket.
To add an elegant touch, consider using glassware with lemon designs or yellow accents on the rims.
For an extra special touch, create custom place cards featuring lemon illustrations or cutouts.
Remember, decorating with lemons in place settings allows you to infuse your meals with a burst of color and zest while creating a cohesive and refreshing atmosphere in your kitchen.
Where to Find Lemon Kitchen Decor
Looking to find the perfect lemon kitchen decor for your home? Look no further! There are plenty of places where you can discover a wide range of lemon-themed items that will add a bright and refreshing touch to your kitchen.
Online marketplaces like Amazon offer an extensive selection of lemon kitchen decor, including wall art, tea towels, dinnerware, and more. If you prefer a more hands-on approach, craft stores like Hobby Lobby may have DIY kits or individual pieces that allow you to create your own unique lemon decorations.
And if you want to shop in-person, big-box retailers like Walmart often have affordable options for lemon kitchen accents. Whether you're seeking farmhouse-style decor or modern touches with a citrus theme, these shopping destinations are sure to have something that catches your eye.
When it comes to finding the ideal lemon kitchen decor pieces for your home, be sure to explore different shops and online platforms. With the variety available online and in-store, there is something for every style preference and budget.
From cute lemon-printed rugs and bar carts to luscious fruit-themed artwork and accent pillows in bright yellow hues – the choices are endless. Don't forget about local boutiques or specialty stores that may carry unique items as well! So start shopping today and elevate your kitchen's aesthetic with cheerful lemon-inspired accents!
Conclusion
In conclusion, incorporating refreshing lemon kitchen decor ideas can truly transform your space into a bright and inviting haven. Whether it's through lemon wallpaper, farmhouse-inspired tiered trays, or playful lemon rugs, these vibrant accents will add a pop of color and cheer to your kitchen.
Don't forget to explore creative wall decor ideas and spruce up your countertops and kitchen island with the citrusy goodness of lemons. With these 10 ideas, you'll create a space that exudes energy and reflects your unique style.
Embrace the lusciousness of lemons and let them bring a touch of summer into your home!
FAQs
Q: What is the inspiration behind lemon kitchen decor?
A: Lemon kitchen decor is inspired by the refreshing and vibrant colors of lemons, which bring a bright and inviting atmosphere to any space.
Q: How can I add lemon accents to my kitchen?
A: You can add lemon accents to your kitchen by incorporating yellow and citrus-themed items, such as lemon-patterned dishware, towels, and even farmhouse-inspired lemon-themed wall decor.
Q: Are there any specific items I should look for when creating a lemon-themed kitchen?
A: When creating a lemon-themed kitchen, you should look for farmhouse-inspired items, such as lemon-printed tea towels, rustic wooden cutting boards, and vintage-style lemon decor pieces.
Q: How can I incorporate the color yellow into my lemon-themed kitchen?
A: You can incorporate the color yellow into your lemon-themed kitchen by using yellow accents, such as yellow dishware, yellow curtains, and even yellow kitchen appliances.
Q: Where can I find lemon-themed kitchen decor items to purchase?
A: You can find lemon-themed kitchen decor items to purchase at various home decor stores, online marketplaces, and specialty shops that focus on farmhouse or rustic kitchen decor.
Q: Is lemon kitchen decor only suitable for the summer season?
A: No, lemon kitchen decor can be enjoyed all year round. The bright and cheerful colors of lemons bring a vibrant and refreshing touch to any kitchen, regardless of the season.
Q: Can I mix lemon-themed kitchen decor with other styles?
A: Yes, you can mix lemon-themed kitchen decor with other styles. For example, you can blend lemon decor with modern or farmhouse elements to create a unique and eclectic look.
Q: What are some lemon-themed kitchen decor ideas for a coffee station?
A: Some lemon-themed kitchen decor ideas for a coffee station include using lemon-shaped mugs, lemon-printed storage canisters, and lemon-patterned table runners or placemats.
Q: Are there any specific lemon-themed kitchen decor ideas for a breakfast nook?
A: Yes, you can decorate your breakfast nook with lemon-themed decor by adding lemon-themed cushions, lemon-patterned curtains, and a lemon centerpiece for the table.
Q: What are some recommended lemon-themed kitchen decor items to review?
A: Some recommended lemon-themed kitchen decor items to review include lemon-shaped serving platters, lemon-printed flour sack tea towels, and lemon-scented candles.